Our Global Regulatory Approach
In an ever shifting and expanding global regulatory climate, medtech markets are being driven by a more integrated regulatory, clinical, reimbursement, quality, compliance and cybersecurity approach. MCRA's expert regulatory consultants provide the knowledge and experience to support medical device and in vitro diagnostic device companies looking to gain access to established and emerging markets.
MCRA believes in taking a global approach to global regulatory consulting for medical devices, and takes time to understand clients' long-term goals. This allows us to develop the most efficient and cost-savings pathway for your medical device to global entry. There is overlap in global medtech markets that creates opportunities to leverage documentation and evidence, and support regulatory work in multiple markets. This allows us to assist clients in reducing costs and expediting time to market for your medical device. MCRA's global regulatory consulting experts have expertise in a number of geographies to help manufacturers identify potential markets and obtain market clearance for their medical device.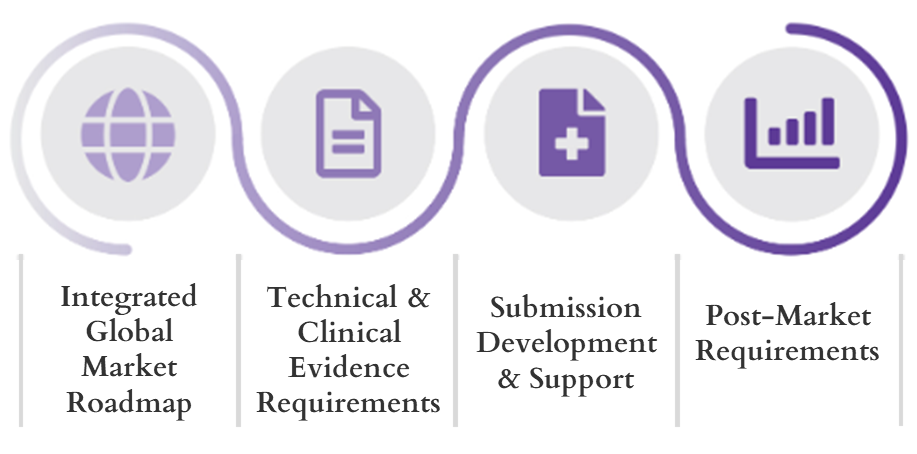 Our Global Regulatory Expertise
MCRA is the first and only medical device regulatory consulting company to integrate seven separate services, with a team of subject matter experts, creating the partner of choice in clinical, regulatory, reimbursement, quality assurance, compliance, cybersecurity, and training services. MCRA's Regulatory Team has an unprecedented success rate for PMA's, 510(k)s, breakthrough designations, and CE mark applications with extensive therapeutic expertise in a wide range of clinical focus areas. MCRA's team includes former FDA assistant directors, branch chiefs, and former FDA reviewers, former senior BSI reviewers, and 50+ veteran medical device experts with over 15 years' experience.
Global Market Strategic Planning and Execution Services
MCRA provides regulatory strategic services throughout the lifecycle of the medical device or in vitro diagnostic device. Services include:
Strategy and regulatory pathway assessments, outlining the critical regulatory considerations specific to your product and market(s).

Big-picture or focused assessments related to key aspects of today's medical device products undergoing regulatory review, including digital health and imaging, biologic and combination products, biocompatibility, biostatistics, and cybersecurity.

Comprehensive strategy and timeline development, such as a global market roadmap, for the introduction of devices to specific markets throughout the product life-cycle.

Implementation of current and upcoming standards, regulations, and requirements for devices, including FDA and EU Medical Device Regulations (MDR (EU) 2017/745 or IVDR (EU) 2017/746), UKCA, ISO 13485 and MDSAP.

Critical assessment of market access preparedness and data generation strategies for devices early in the process to establish non-clinical and clinical evidence needs, so manufacturers can generate the highest quality data cost-effectively with multiple reviewing bodies in mind.

Ad-hoc communications and meetings throughout the process with subject matter experts.

MCRA-led training for your team on device regulatory affairs expectations, requirements, and processes.
MCRA can then work with your team to generate all required documentation to support your Company's regulatory submission. Refer to our regional services pages linked above for more details on specific services. Click here to get in touch with us regarding what our consulting expertise can do for you.
MCRA Global Regulatory Services
Our Therapeutic Specialties