Our Global Regulatory Services
In an ever shifting and expanding global regulatory climate, the international markets are being driven more and more by an integrated regulatory, quality, and clinical approach. MCRA's expert international regulatory, quality, and clinical consultants provide the knowledge and experience to support medical device companies looking to gain access to established and emerging markets.
With the EU Medical Device Directives (MDD, AIMDD and IVDD) replaced by the EU Medical Device Regulation (MDR) and EU In Vitro Diagnostic Regulation (IVDR) the demands on medical device/IVD manufacturers have increased. The increase in regulatory scrutiny and demands in the EU is also set against a backdrop of challenges to Notified Body capacity and lacking infrastructure. It is therefore essential that manufacturers are as prepared and compliant to the MDR/IVDR as possible when they embark on their MDR/IVDR journey. With MCRA's in-depth knowledge and combined decades of experience, MCRA provides access to extensive regulatory guidance and unparalleled expertise in European regulatory affairs.
The exit of the UK from the EU ('Brexit'), and the lack of Mutual Recognition Agreement (MRA) for Switzerland, means that further complexities have been added to the European regulatory landscape.
There is overlap in global markets that can create opportunities to leverage documentation to support multiple markets, reducing costs and expediting time to market. MCRA has expertise in a number of major markets to help manufacturers identify potential markets and obtain market clearance.
MCRA's Global Regulatory team is able to use their significant experience in global markets, including Europe, to offer end-to-end regulatory services in the device design, development and production life-cycle. This consultancy can be ad-hoc or fully-integrated with other MCRA services, to meet your needs.
In addition to the regulatory service offering described below, MCRA can assist with Notified Body identification and communication, quality system and manufacturing compliance (e.g., ISO 13485, MDSAP preparation and implementation, internal audits, supplier/vendor audits), and clinical investigation services including pre-study activities and study execution.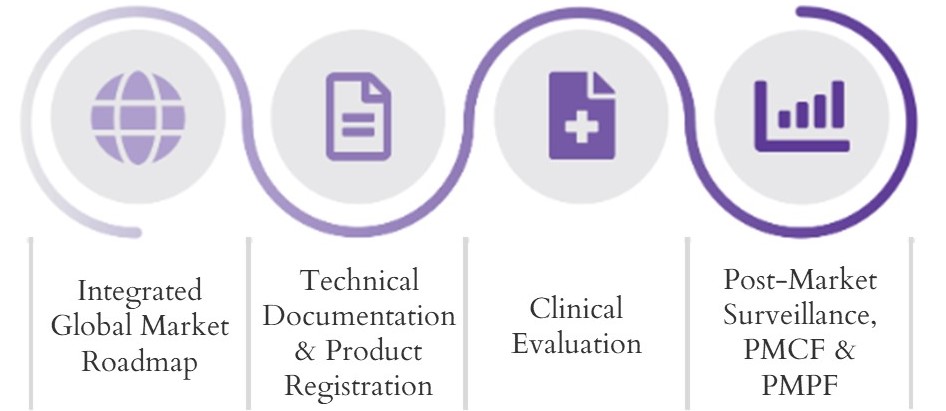 Integrated Global Market Entry Roadmap
Design comprehensive strategic plans and timelines for the introduction of devices to

 

global markets throughout the product lifecycle. 

Implement current and upcoming standards, regulations, and requirements, including FDA and EU Medical Device Regulations (MDR (EU) 2017/745) or IVDR (EU) 2017/746), UKCA, ISO 13485 and MDSAP.

Critically assess and prepare market access and data generation strategies early in the process to establish non-clinical and clinical evidence needs, so manufacturers can generate the highest quality data cost-effectively with multiple reviewing bodies in mind (FDA, Notified Bodies, Approved Bodies, certification agencies, other global regulatory authorities, internal marketing goals).
Technical Documentation and Product Registration
Execute successful registration through in-house expertise in the markets of Canada, Europe, Asia-Pacific, Latin America, the Middle East, and Africa.

Develop, create, and review scientific, clinical and technical documents, including Technical Documentation/Summary of Technical Documentation (STED) through the use of MCRA's subject matter expertise.

Implement current and upcoming standards, regulations, and requirements into your Technical Documentation, including

 

state of the art gap

assessments

 and remediation strategies.

Provide response services to address Regulatory Authority or Notified Body questions. 
Clinical Evaluation for Medical Devices/Performance Evaluation for IVDs
Development, writing and reviewing of your Clinical/Performance Evaluation Report (CER/PER) for submission to a specified regulatory body in compliance with the EU Medical Device Regulation (MDR, (EU) 2017/745) or IVD Regulation (IVDR, (EU) 2017/746), including MDCG guidelines; as well as generating reports for other global markets.

CER/PER Strategic Planning - Perform an analysis of available data to determine what is required to meet the regulatory level of sufficiency; this includes an assessment of pre-market investigation data and/or existing post-market data; assessing large product portfolios for strategic placement of devices within the Technical Documentation and CER/PER.

Evaluate your clinical evidence for data sufficiency to demonstrate conformity with the relevant Essential Requirements/General Safety and Performance Requirements or other key regulatory benchmarks. MCRA will assess all data sources to generate a benefit risk assessment to determine the benefit risk profile of the device; whether any actions are required post-market, and ultimately, support the global marketing approvals of the device.
Post-Market Surveillance/Post-Market Clinical or Performance Follow-Up (PMCF/PMPF)
Develop robust, integrated Post-Market surveillance (PMS) programs, interfacing with clinical/performance data, risk management and state of the art post-certification.

Strategize the process inputs and outputs across your PMS program, risk management, and CER ensuring continuous review and alignment of benefit risk and compliance.

MCRA can support implementing PMS and post-market clinical follow-up (PMCF) or IVD post-market performance follow-up (PMPF) requirements, including procedures and templates for plans and reports.

Navigate reporting requirements per MDR or IVDR (e.g., incident reportability, EUDAMED requirements, Periodic Safety Update Reports (PSUR) or Post-Market Surveillance Reports.
Global Market Strategic Planning
MCRA can provide regulatory strategic services at any point during the design and development process. Services include:
Strategy and regulatory pathway assessments outlining the critical regulatory considerations specific to your product.

Develop comprehensive strategies and timelines (e.g., global registration plan) for the introduction of devices to global markets throughout the product life-cycle.

Ad-hoc

communications and meetings throughout the process provided by subject matter experts.

MCRA-led training for your team on regulatory expectations, requirements, and processes.
MCRA's multifaceted expertise in Clinical, Regulatory, Reimbursement, and Quality will help you navigate the increasingly complex and evolving regulatory landscape. MCRA assists companies with all aspects of their Global Regulatory, Clinical and Quality needs, from full-service assistance to more refined scopes, based on the needs of the company. MCRA partners with your internal team to provide insight and/or added bandwidth to meet internal and external timelines.
MCRA Global Regulatory Services
Our Therapeutic Specialties