MCRA's interdisciplinary team helps companies navigate the increasingly complex path to market for Digital Health technologies.
What is Digital Health?
Digital Health is the convergence of health and wellness innovations with digital technologies to enhance healthcare and society. As computing and software technologies have developed over time, the need for Digital Health medical device services has emerged to guide teams on the best practices for adapting these new technologies to the regulated medical device industry.
MCRA's Digital Health Program supports companies at all stages of the product development lifecycle for their digital health medical devices and technologies. Our dedicated staff, with expertise in software as a medical device and software in medical device, are structured into two verticals: Digital Diagnostics and Therapeutics and Imaging. Our digital health experts are aided by MCRA's expansive clinical and technical medical device experts across our therapy areas.
 
MCRA's Digital Health Program offers services tailored to Digital Health technology companies to efficiently and effectively bring their digital health devices and technologies to market.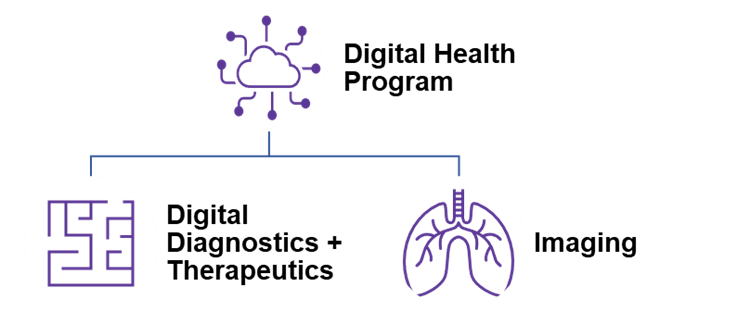 DIGITAL DIAGNOSITIC and THERAPEUTICS:
The Digital Diagnostics and Therapeutics team provides four key services to clients: Regulatory Strategy, Digital Health Policy Navigation, FDA Submission Support, and Gap Analyses.
 
Holistic Strategic Advisory
Our holistic strategy designs comprehensive strategic regulatory plans and timelines for medical devices with digital capabilities for the total product lifecycle. MCRA's team of digital health experts will train your organization on digital health-related regulatory policies and paradigms, reimbursement and market access, quality assurance, cybersecurity regulatory requirements, and software regulatory requirements for your digital health medical device to ensure your company is effectively navigating current and future stakeholders.



Digital Health Policy Navigation
The Digital Health Policy Navigation service advises your team on current and upcoming Digital Health related regulatory policies, guidance, and standards, such as software as medical device, software in medical device, AI/ML, and cybersecurity. By advising on new Digital Health device policies, our team can assess and prepare market access and data generation strategies early in the medical technology's product development lifecycle to establish non-clinical and clinical evidence that is required.

FDA and Notified Bodies Submission Support
MCRA's Digital Health experts assist with the strategy and successful completion of regulatory submissions alongside your organization for digital health technologies. Our experts will lead and collaborate with your team to develop, create, and review verification and validation evidence for your medical device with digital health capabilities. We also support the product risk management for your digital health medical device, including evaluating the product, software, hardware, usability, and cybersecurity aspects for your digital health technology.



Gap Analysis
MCRA's Digital Health team will identify additional evidence and documentation needed to support your target region regulatory submissions for your digital health medical technology. These analyses help develop documentation, like your Design History File (DHF), to satisfy regulatory requirements for the digital health device, including software documentation, human factors and usability engineering activities, clinical validation strategy and protocol development.
 
Imaging
The Imaging team provides Imaging Software Strategy services to clients in the Digital Health medical technology space. This strategy includes work related to Quantitative Imaging, Computer Aided Triage, Computer Aided Detection and Diagnosis (i.e. QI, CADt, CADe, CADx, and CADe/x).
 
MCRA's Imaging team provides the strategy to best prepare your digital health medical device for regulatory review and submission from the FDA and other Notified Bodies. Our team includes former FDA Lead Reviewers, imaging scientists, and statisticians with experience reviewing imaging software protocols to ensure they meet FDA expectations for a variety of intended uses.
 Imaging Medical Technology Services:
Understand how the FDA will categorize your software for the digital health medical device

Adjusting your medical digital health device to fit in the desired regulatory path

Classifying your medical device functionality properly with proper predicate selection

Identifying a regulatory strategy for 510k, De Novo, and PMA submissions for your digital health technology

Guiding your quantitative imaging strategy around performance testing and software functionality to meet FDA guidelines

Manual, semi-automated, and fully automated quantitative imaging device performance testing conception and review

Standalone and reader study protocol design and review

Image segmentation, surgical planning, and 3D modeling strategy and protocol design

Imaging Medical Technology Expertise
Our team of experts have experience working with a range of digital health technologies, including Ultrasound, Stroke Devices, and Computer Aided Triage devices. We also have experience with digital health devices across the spectrum of imaging medical devices, such as X-Ray CT, MRI, and other modalities.
Additionally, the majority of imaging software devices now use Artificial Intelligence (AI) and Machine Learning (ML), also called AI/ML. Our team understands the new challenges this may present, and can guide your team through the FDA policies and best practices relating to general AI/ML implementation in digital health medical devices.
In addition to CAD, we offer protocol and review services for specific technologies like Image Segmentation, Surgical Planning, 3D Modeling, Visualization (AR/VR) & Printing, and other applications.
Services for Digital Health Clients