MCRA digs deep to find and resolve violations and nonconformities before FDA inspectors and Notified Body auditors do.
Why Manufacturers Need Audits as Part of the Quality Assurance Process
The range of requirements that a manufacturer must meet is constantly changing, including new approaches from FDA ("current thinking") or revised international standards. A manufacturer must stay current with these requirements. MCRA performs either a gap assessment or an audit to assist a manufacturer in closing the gaps between the manufacturer's quality system and the changed requirements. MCRA ensures that any quality system changes are assessed for their impact on both the quality system and the manufacturer's devices. 
Gap Assessment
MCRA will perform an assessment to either FDA regulations, or international standards.  Examples of these assessments include:
21 CFR Part 820

ISO 13485:2016 Medical devices – Quality management systems – Requirements for regulatory purposes

Medical Device Single Audit Program (MDSAP)

EN ISO 14971:2019 Medical Devices – Application of risk management to medical devices
Audits
Once a quality system is in place, manufacturers must conduct routine audits to ensure their system is compliant and effective. Without regular monitoring, there may be a reduction in product quality or a lack of process improvement, resulting in either a possible loss of third-party certification or FDA enforcement actions. MCRA's experts can assess your compliance and prepare you for FDA inspections and notified body audits to keep you in compliance.
Perform mock FDA inspections to assess QSR compliance, including mock Pre-Approval Inspections (PAIs) for PMA submissions

Perform supplier audits, reducing your internal cost by outsourcing this requirement

Perform internal audits, reducing your internal cost by outsourcing this requirement
Problem Resolution
Medical device manufacturers are required to comply with FDA regulations regarding how device issues are recorded and resolved. MCRA's experts have worked with FDA and can help accomplish everything from creating a complaint process to resolving an FDA warning letter.
Assist in creating complaint processes, including FDA medical device reporting (MDR) to comply with 21 CFR Part 803, and improving complaint investigations

Management of recalls in accordance with 21 CFR Part 806

Assist in creating processes for vigilance reporting (VR) for CE-marked devices

Improve conforming product processes

Improve document control systems, including compliance with 21 CFR Part 11 for electronic signatures and electronic record-keeping

Improve CAPA processes, which are among the most common sources of FDA 483s

Resolve FDA 483s and warning letters with quality system updates

Resolve notified body ISO 13485 audit observations
Supplier Management
Suppliers are an integral part of all manufacturing processes, but for medical device companies, FDA's QSR makes choosing and monitoring suppliers a challenge. MCRA's experts can help with the entire process, from selection to monitoring and contractual agreements. Let our experts make sure your products are made to meet compliance standards.
Evaluate or create a supplier management program including: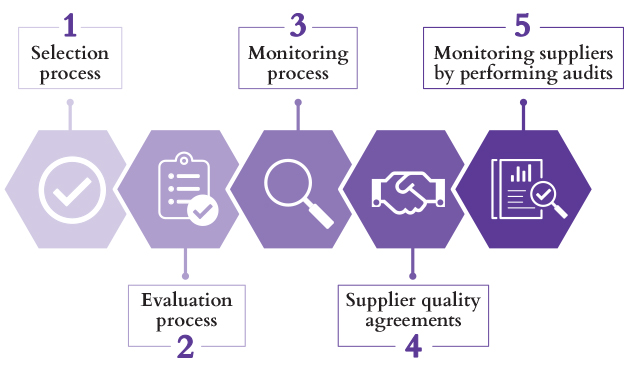 Due Diligence
Today it is common for a manufacturer to either be acquired or to acquire another manufacturer. MCRA assists either a selling organization or a buying organization in determining the risk of an acquisition. Our team will assist your firm by performing due diligence on the suitability of the design records, the manufacturing system, the complaint handling system, quality records, and other quality system requirements. MCRA has assisted clients in their due diligence efforts for the following types of devices:
Orthopedic implants

Instrumentation

In-Vitro Diagnostics

Acquisition of manufacturing facilities

Manufacturing transfers
Explore other Quality Assurance Services