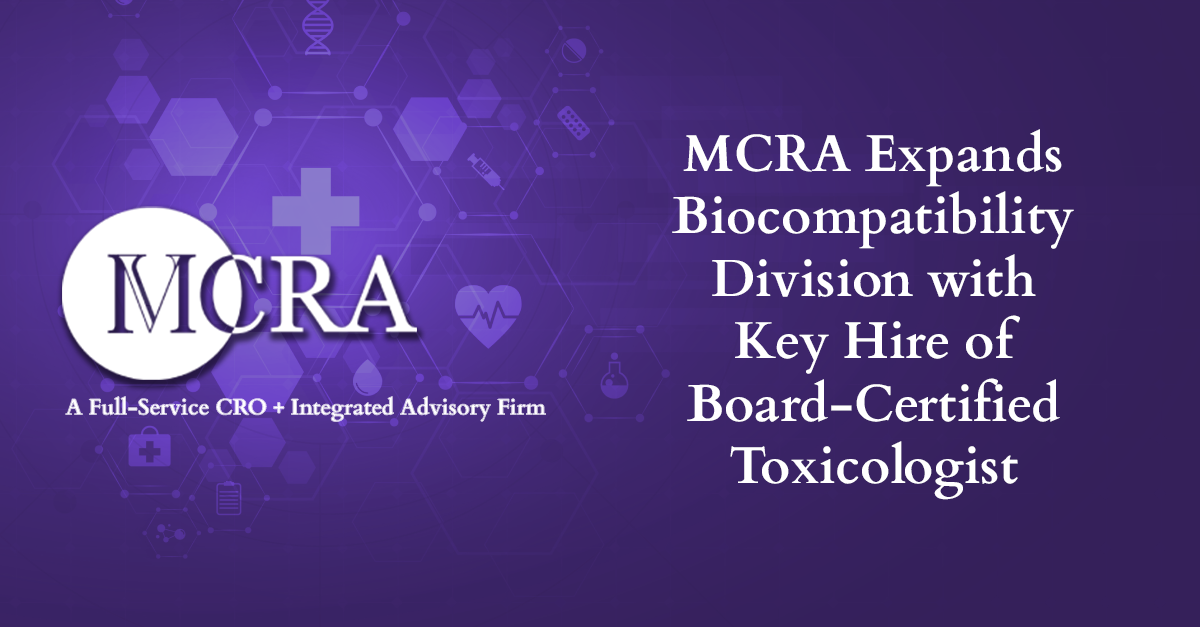 As medical device toxicology requirements continue to evolve, MCRA hires board certified toxicologist Sharlee More, PhD, DABT.

Dr. More expands MCRA's biocompatibility services to include toxicological risk assessment (TRA) and other toxicology consulting services for medical devices and combination products.

MCRA now offers full-service biocompatibility consulting, from initial planning through the final risk assessment.

WASHINGTON, July 24, 2023/PRNewswire/ -- MCRA, LLC, a leading medical device focused regulatory advisory firm and clinical research organization (CRO) integrating U.S. and International Regulatory Affairs, Clinical Trial Operations, Reimbursement and Market Access, Healthcare Compliance, Cybersecurity, Quality Assurance, and Japan Distribution Logistics (DMAH) is pleased to announce the expansion of its biocompatibility division to now include full toxicology services. MCRA has hired Sharlee L. More, PhD, DABT, a board-certified toxicologist, as its Associate Director of Toxicology to support the company's growing biocompatibility service offerings for the medical device industry.
Dr. More will lead MCRA's new toxicology service line within the Biocompatibility Division. Dr. More joins MCRA at a crucial time when changes to ISO 10993-17, a key international toxicology standard that influences device toxicology regulatory requirements, are imminent. Dr. More's deep toxicology expertise enables MCRA to provide state-of-the-art device toxicology services that remain in line with current and future regulatory expectations.
Dr. More joins from Stantec ChemRisk (formerly Cardno ChemRisk), where she spent seven years performing toxicology and human health risk assessments in a wide variety of fields including medical devices, electronic nicotine delivery systems (ENDS), and consumer products. Dr. More has extensive knowledge and experience in toxicology including toxicological risk assessment (TRA), benefit-risk assessments of Carcinogenic, Mutagenic, and toxic to Reproduction (CMR) materials, pharmacokinetic modeling, state of the science reviews, and responding to deficiencies / non-conformities from US FDA and European Union (EU) notified bodies. Dr. More also has experience designing and evaluating in vitro and in vivo biological testing (including following OECD guidelines) for devices and products used in biotechnology, ENDS, personal care products, and drugs. Additionally, Dr. More is an author in a series of recent publications that review the reproductive toxicity and carcinogenic potential of Cobalt-containing alloys and evaluate their benefits and risks. [1],[2]
Dr. More joins a world-class biocompatibility team of former FDA and industry biocompatibility experts. Dr. Eric Sussman, PhD, a former FDA biomedical engineer and consultant reviewer for chemistry, toxicology, biocompatibility and nanotechnology, will work closely with Dr. More to support the new toxicology service arm.
Dr. Allen, who leads MCRA's Biocompatibility Division, said, "We are excited to have Dr. More join our team and formally launch MCRA's toxicology services. Dr. More complements MCRA's current biocompatibility capabilities, enabling us to provide full-service biocompatibility consulting to our extensive client base. We now cover medical device biocompatibility from initial planning to the final risk assessments. We are thrilled to have Dr. More join our team."
Glenn Stiegman, Senior Vice President of Clinical and Regulatory Affairs said, "Dr. More's addition to MCRA's Biocompatibility division allows us to better serve our clients and provide critical expertise to ensure regulatory success. This vital service will allow our clients to continue to receive the highest-level of expertise MCRA offers. Clients can now work with Dr. More on critical toxicology assessments throughout the medical device lifecycle."
Dr. More said, "I am excited to join MCRA's world-class Biocompatibility team. This is an interesting time in medical device regulation and I am confident that I can use my extensive experience in toxicology to assist our clients throughout the medical device lifecycle. I look forward to enhancing our offerings and being a vital resource to our clients and the entire MCRA organization."
The launch of toxicology consulting services at MCRA is an important achievement for the Biocompatibility Division. MCRA is committed to supporting innovation in the medical device industry by helping clients ensure the safety of their devices and navigate all of the biocompatibility requirements at the FDA and across global regulatory bodies.

About MCRA, LLC: MCRA is the leading privately held independent medical device, diagnostics and biologics Clinical Research Organization (CRO) and advisory firm. MCRA delivers to its client's industry experience, integrating its six business value creators: regulatory, clinical research, reimbursement, healthcare compliance, quality assurance, and distribution logistics to provide a dynamic, market-leading effort from innovation conception to commercialization. MCRA's integrated application of these key value-creating initiatives provides unparalleled value for its clients. MCRA has offices in Washington, DC, Hartford, CT, New York, NY, and Tokyo, Japan and serves nearly 1,000 clients globally. Its core focus areas of therapeutic experience include orthopedics, spine, biologics, cardiovascular, diagnostic imaging, wound care, artificial intelligence, dental, anesthesia, general surgery, digital health, neurology, robotics, oncology, general and plastic surgery, urology, and in vitro diagnostic (IVD) devices and medical device cybersecurity. www.mcra.com
About Viscogliosi Brothers, LLC: Viscogliosi Brothers, LLC (VB), founded MCRA in 2004. VB is headquartered in New York City and specialized in funding venture capital, private equity, and merchant banking activities for the neuromusculoskeletal industry. VB is dedicated to financing healthcare innovation. www.vbllc.com
 
For more information, please contact:
Alyssa Howard, Vice President, Business Development
Phone: 215.870.3952 | Email: ahoward@mcra.com
[1] Kovochich, Michael, Andrew Monnot, Daniel G. Kougias, Sharlee L. More, Jared T. Wilsey, Qing-Qing Qiu, Laura EL Perkins et al. "Carcinogenic hazard assessment of cobalt-containing alloys in medical devices: review of in vivo studies." Regulatory Toxicology and Pharmacology 122 (2021): 104910. Doi: https://doi.org/10.1016/j.yrtph.2021.104910
[2] Eichenbaum, Gary, Jared T. Wilsey, Gion Fessel, Qing-Qing Qiu, Laura Perkins, Philippe Hasgall, Andrew Monnot et al. "An integrated benefit-risk assessment of cobalt-containing alloys used in medical devices: Implications for regulatory requirements in the European Union." Regulatory Toxicology and Pharmacology 125 (2021): 105004. Doi: https://doi.org/10.1016/j.yrtph.2021.105004