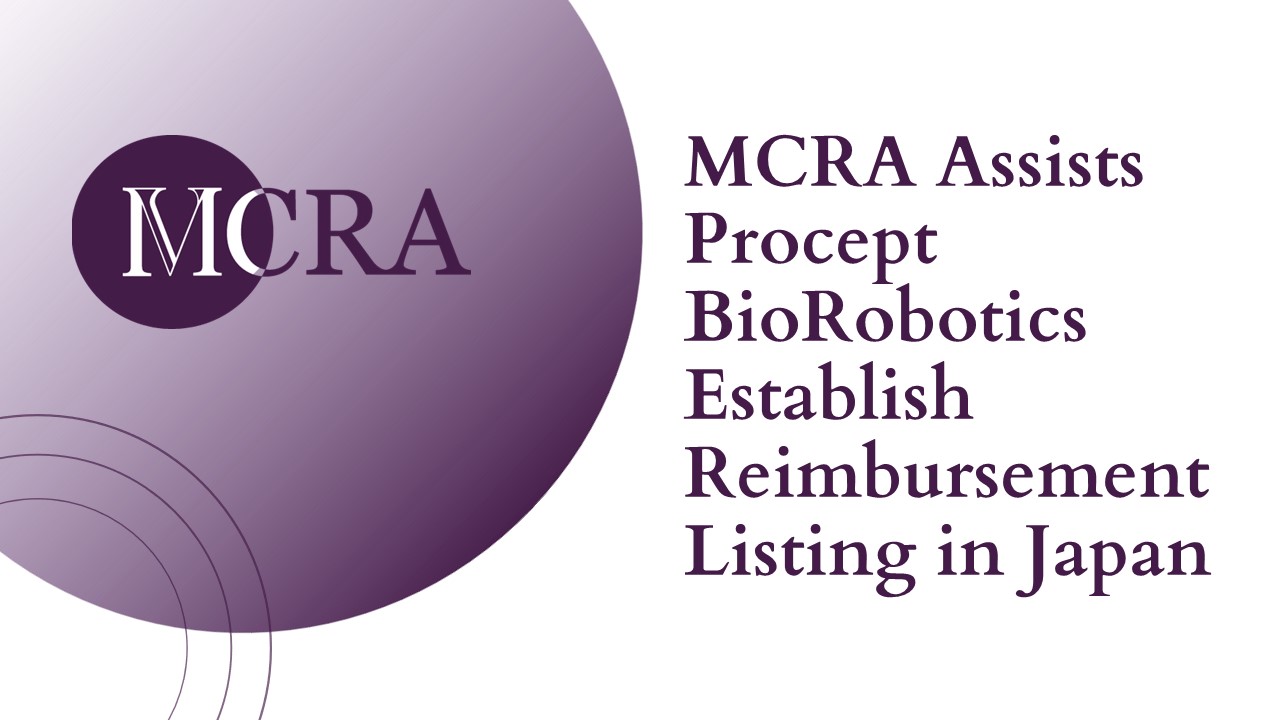 WASHINGTON, September 13, 2023/PRNewswire/ -- MCRA, LLC, a leading medical device focused regulatory advisory firm and clinical research organization (CRO) integrating U.S. and International Regulatory Affairs, Clinical Trial Operations, Reimbursement and Market Access, Healthcare Compliance, Cybersecurity, Quality Assurance, and Japan Distribution Logistics (DMAH), is pleased to announce that its Japanese arm, Vorpal Technologies K.K., played a critical role assisting Procept BioRobotics Corp. in establishing a new Category Reimbursement Listing Code in the Japanese market for its Aquabeam Robotic System.
In February 2022, Procept BioRobotics achieved regulatory approval for the Aquabeam Robotic System through strategic partnership with Vorpal Technologies K.K. Following regulatory approval, Vorpal led the reimbursement consultation and application process to establish a new reimbursement category listing in June 2023, marking Vorpal's third new reimbursement listing this year. Notably, including that for the Aquabeam Robotic System, there have only been eight new reimbursement categories established year to date. This reimbursement category is designated for products and services that go beyond standard medical offerings and bring unique benefits to patients, healthcare providers, and the overall Japan healthcare system. Vorpal's team worked diligently to navigate this reimbursement process to help Procept achieve their goal and to provide patients with easily accessible care with a therapy that physicians are not only incentivized, but also, excited to use.
The Aquabeam Robotic System is the first and only image-guided, heat-free robotic therapy for the treatment of lower urinary tract symptoms (LUTS) due to benign prostatic hyperplasia (BPH). The system comprises an advanced surgical robotic system that combines real-time, multidimensional imaging, personalized treatment planning, automated robotics, and heat-free waterjet ablation for precise and rapid removal of prostate tissue.
Vorpal Technologies' General Manager, Samuel Pollard, said, "We are honored to have Procept BioRobotics trust Vorpal with this important role and proud to have achieved this new category reimbursement listing for the Aquabeam Robotic System. Our team has continued to shine in the reimbursement and regulatory space, helping foreign manufacturers navigate Japan market entry. We are thrilled to work with companies like Procept BioRobotics in bringing innovative products to Japanese patients."
Procept BioRobotics' Barry Templin, Senior Vice President of Medical Affairs and Market Access notes, "We are very thankful to the entire Vorpal organization for guiding us through the process of establishing reimbursement in Japan. We view Japan as a very promising market for the adoption of Aquablation therapy, which has a long history of adopting new, innovative technologies, while prioritizing patient outcomes."
About MCRA, LLC: MCRA is the leading privately held independent medical device, diagnostics and biologics Clinical Research Organization (CRO) and advisory firm. MCRA delivers to its client's industry experience, integrating its six business value creators: regulatory, clinical research, reimbursement, healthcare compliance, quality assurance, and distribution logistics to provide a dynamic, market-leading effort from innovation conception to commercialization. MCRA's integrated application of these key value-creating initiatives provides unparalleled value for its clients. MCRA has offices in Washington, DC, Hartford, CT, New York, NY, and Tokyo, Japan and serves nearly 1,000 clients globally. Its core focus areas of therapeutic experience include orthopedics, spine, biologics, cardiovascular, diagnostic imaging, wound care, artificial intelligence, dental, anesthesia, general surgery, digital health, neurology, robotics, oncology, general and plastic surgery, urology, and in vitro diagnostic (IVD) devices and medical device cybersecurity. www.mcra.com
About Vorpal Technologies, K.K.: Vorpal Technologies, acquired by MCRA, LLC in 2022, is a full-service Japanese regulatory authority, consulting, and operational services provider, enabling international MedTech innovators to enter Japan on their own terms with transparency, confidence, and flexibility. Vorpal delivers expert solutions in regulatory assessment, clinical and regulatory affairs, reimbursement, and post-approval commercial support including quality and safety management and supply chain operations. Our experienced bilingual, bicultural team provides a true partner for overseas companies to achieve regulatory and commercial success through our medical device consulting in Japan. https://www.vorpaltechnologies.com/
About Viscogliosi Brothers, LLC: Viscogliosi Brothers, LLC (VB), founded MCRA in 2004. VB is headquartered in New York City and specialized in funding venture capital, private equity, and merchant banking activities for the neuromusculoskeletal industry. VB is dedicated to financing healthcare innovation. www.vbllc.com

About Procept BioRobotics: Procept BioRobotics is a surgical robotics company enabling better patient care by developing transformative solutions in urology. With an initial focus on benign prostatic hyperplasia (BPH), the AquaBeam Robotic System delivering Aquablation therapy is the first FDA-cleared, surgical robot with automated tissue resection for the treatment of lower urinary tract symptoms due to BPH. Aquablation therapy combines real-time, multi-dimensional imaging, automated robotics and heat-free waterjet ablation for targeted, controlled, and immediate removal of prostate tissue. Aquablation therapy offers predictable and reproducible outcomes, independent of prostate anatomy, prostate size or surgeon experience.
For more information, please contact:
Alyssa Howard, Vice President, Business Development
Phone: 215.870.3952 | Email: ahoward@mcra.com
Brooke Asfeld, Senior Associate, International Business Development
Phone: 401.585.4882| Email: basfeld@mcra.com